The BBC has issued an apology this afternoon after describing an IRA terrorist as a veteran whilst reporting on his funeral.
Republicans gathered in Londonderry on Monday to remember IRA gunman Eamon "Peggy" McCourt, with the BBC choosing to describe the man as a "veteran", an accolade usually reserved for those who honourably serve their country.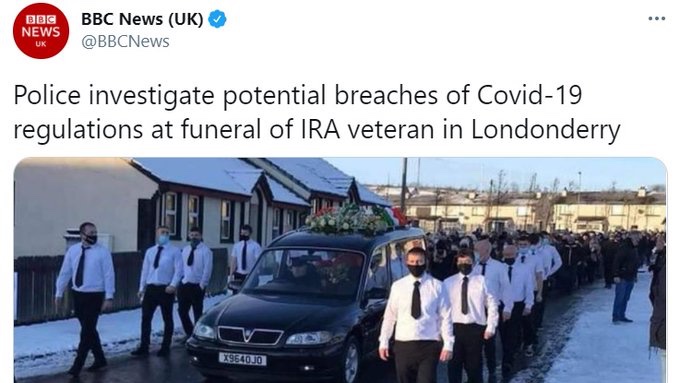 Ex-defence minister Lord Lancaster told The Sun's political editor Harry Cole that the BBC's choice of words was "bizarre and deeply insulting" by giving "equivalence" to troops.
Equally, Tobias Ellwood told the newspaper: "It's an accolade to be called a veteran. A tribute to serving your country. It should never be used to champion terrorism."
Secretary of State for Northern Ireland, Brandon Lewis tweeted: "Our veterans are the best of us. Suggesting any equivalence between our armed forces and terrorists is an insult to all those who have served their country, including in Northern Ireland."
In a statement issued on Wednesday, the BBC ssaid: "We used the term 'IRA veteran' to describe Eamon McCourt's long involvement in Irish republicanism.
"We accept that this shorthand formulation could be misinterpreted and it has now been amended for clarity.
"Mr McCourt is now described as an 'IRA man' in our online news report. Related social media posts have also been updated."
They added: "We understand the sensitivities around Troubles' issues and legacies, including in relation to terminology. Much of this can be contested.
"No offence was intended and we regret any misunderstanding or upset that may have been caused."
Baroness Hoey said of the apology: "They only removed it because of protests. Am sorry to say BBC News constantly plays down IRA terrorism."