A number of Irish MEPs have come together to write an open letter, demanding that Ursula von der Leyen hold herself accountable for the European Commission's latest blunder in the European Parliament next week.
Von der Leyen and the EU executive caused outrage across the British Isles and beyond last Friday when it invoked Article 16 of the Northern Ireland Protocol in a bid to impose a hard vaccine border on the island of Ireland.
It subsequently withdrew its intention to use the measure, intended as a last resort, but the erratic behaviour raised questions over the Commission's competence.
Irish "legislators" have now joined together to "collectively call for transparency and accountability" from the Commission.
"The commission's triggering of Article 16 has damaged relations on the island of Ireland and undermined the security of its people," the open letter wrote.
"This act was a further and serious blow to the Commission's credibility, one which points to a wider breakdown in communication between the Commission and democratically elected Member State governments."
The MEPs from all political persuasions insisted on "answers from Ursula von der Leyen".
"Having taken on a crucial public health role, the commission must make itself accountable, in the same way that national governments are accountable to national legislatures.
"We need much better communication from the commission, on progress in the vaccine programme and on the decisions the commission is making on behalf of the people of Europe."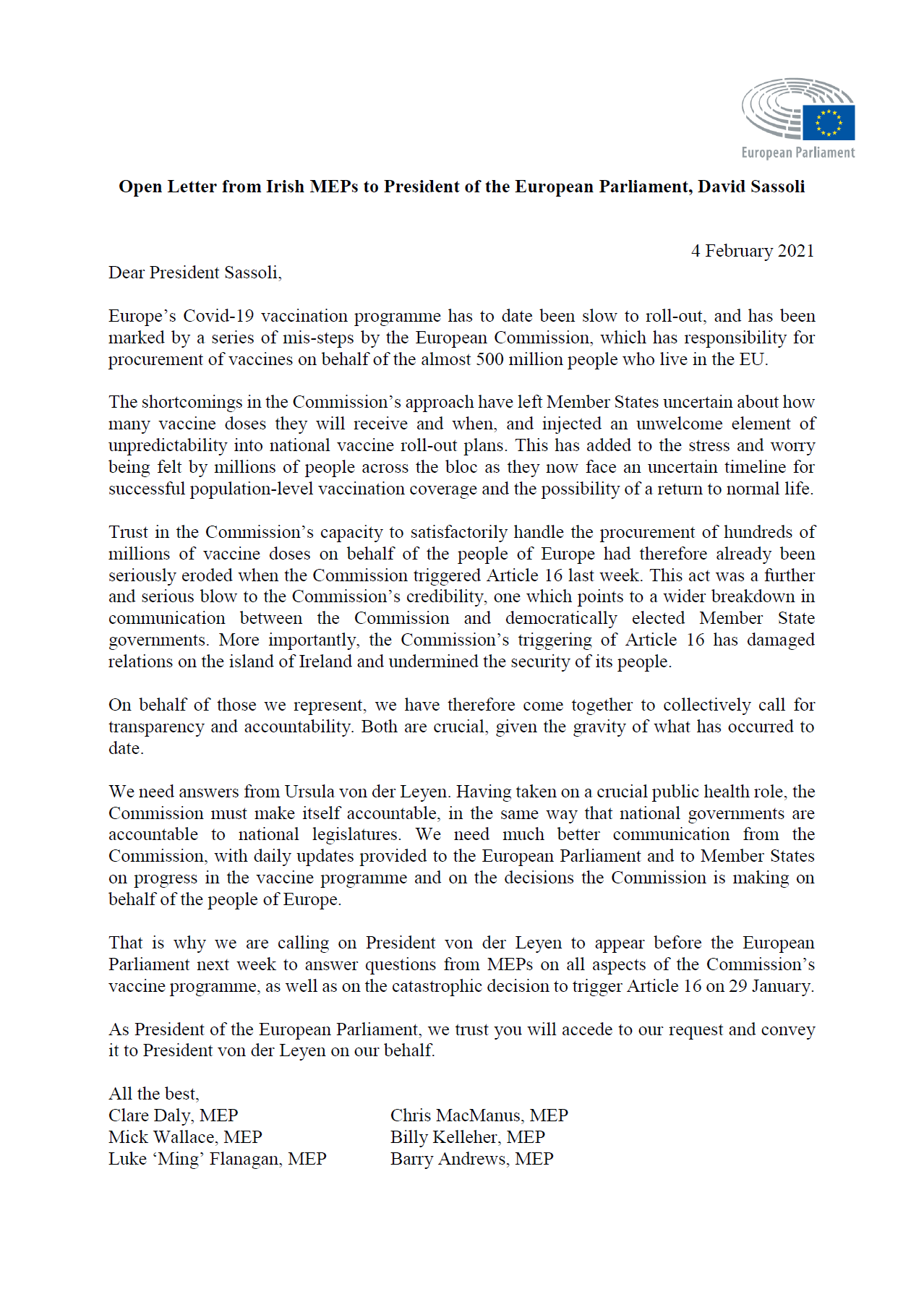 The future of the Protocol is in the air right now with pressure on the British government by Unionists to bin it.
The First Minister of Northern Ireland and DUP leader, Arlene Foster launched a petition on Thursday demanding the British government trigger Article 16 itself and "immediately remove any impediment or barrier to unfettered trade" within the UK internal market.
At the time of writing, the petition was close to three-quarters towards its initial target of 100,000 signatures which would trigger a debate in the House of Commons.
Cabinet Office minister Michael Gove and European Commission Vice President for Interinstitutional Relations Maroš Šefčovič released a statement on Wednesday reiterating their "full commitment" to the "proper implementation of the Protocol" although reports suggest Mr Gove is calling for a longer two-year transition period on the Protocol's full implementation.